7-Worth It
Tuesday, March 27, 2007
So I'm reading Technology Marketing magazine last month (okay, not really, I just found the article because it was about candy and it came up on a Google News Alert) and there was an article about Topps and their new products. But what shocked me, seriously shocked me, was the first part of the opening paragraph:
Baby Bottle Pop—Topps' biggest brand and the No. 2 sweet in the kids non-chocolate candy segment ... (link)
Say what? The Baby Bottle Pop is that popular (I have no idea what holds the number 1 spot in the adults non-chocolate segment ... I'm guessing something from Jelly Belly)?
So why haven't I had them? It appears that they were introduced in the late 90s, a bit after my candy experimentation stage. But I have a duty to Candy Blog to keep up with the kids, you know. First, I had to find them. This involved stooping down and looking at the bottom racks in the candy aisle at the drug stores and finally at 7-11 where I was able to find the "classic" version in a flavor combo that seemed good to me. I picked up Citrus Craze and Strawberry.
You may be wondering what a Baby Bottle is. It's a little bottle, about the size of a small baby food jar, filled with a powdered candy topped with a hard candy nipple top. The top unscrews and has a "stem" that allows you to hold onto the top as you lick it to get it sticky and then dip it into the bottle to coat it with the sour, flavorful powder. The nipple pop has a plastic dome to keep it clean when you're not eating.
I was expecting a grainy powder like Pixy Stix. Instead it's much finer and more flavorful.
The Citrus Craze powder is quite tart and actually has a lot more flavor than I expected. Instead of just sour, it had some orangey flavors. It still tasted pretty much like Tang. It looks like Tang, too. The pop itself is rather bland and sweet, with a swirl of yellow and orange. The combo of the two is really good! The tangy powder seems more zesty because of the bland background of the sweet pop. Having the dipping pop made of hard candy makes far more sense than the Lik-a-Maid which had a compressed dextrose stick that got soggy pretty quickly.
As you eat the pop and there's less powder, it gets harder and harder to coat the pop with it. I eventually just dumped the powder onto my tongue. Here's a tip ... don't inhale at the same time. Seriously, this is weapons-grade powder and the sour crust in your lungs is not a happy thing. Is there a disease called Pixe Stix Lung?
The Strawberry wasn't quite as interesting to me, except that I have to say that the clear red nipple pop on top was pretty alluring. (Read into that whatever you like.)
In this version the pop is actually the flavorful sour part and the powder is just sweet and fruity. Not bad, but I preferred the tangy zap of the Citrus Craze. As a grown up I find eating this a little cumbersome but I'm pretty sure this would have been my favorite candy as a tween. As a treat for kids, yeah, it's a mixed message, but it's also rather labor intensive to eat and only 120 calories.
For the record, as a kid I didn't buy Pixy Stix or Lik-a-Maid. I would buy cans of lemonade mix or boxes of Jell-O and just eat that by licking my finger and dipping it in there. I don't know why it never occurred to me to use a lollipop.
Note: this product was made in Thailand.
Related Candies
Name:
Baby Bottle Pops: Citrus Craze & Strawberry

RATING:
SUPERB
YUMMY
TASTY
WORTH IT
TEMPTING
PLEASANT
BENIGN
UNAPPEALING
APPALLING
INEDIBLE

Brand:
Topps
Place Purchased:
7-11 (Hollywood)
Price:
$1.29
Size:
1.1 ounces
Calories per ounce:
109
Categories:
Chalk, Hard Candy, , SourTopps
Monday, March 26, 2007
I thought I was done with the series of Easter candy, but then I remembered that I had these organic treats that I picked up at Show West.
Surf Sweets is a line of organic candies made by Santa Cruz Nutritionals. No artificial colors, no artificial sweeteners, non-GMO and gluten free but they look and taste just like mass-consumer brands.
The treats I'm sampling are their Jelly Beans, Fruity Bears and Gummy Bears. Since their colors are natural, they look a little more muted than many other candies, but still very pleasant and sparkly. Surf Sweets are also fortified with vitamin C (though it takes half a package to get a full day's supply).
The jelly beans started off with a bang when I picked up the light yellow one and found it to be a tasty grapefruit. The beans are about the size of Jelly Belly, but a little less regular in shape. The shell was a little more grainy than many other jelly beans I've had lately, but very fruity with a good balance of sweet and tart. The other flavors, as far as I could tell were: Lemon, Orange, Cherry (no bitter aftertaste!) and Strawberry.
These are marked Vegetarian on the package, using fruit pectin as the gelling agent. They do have beeswax on them so some vegans may find them objectionable.
These are called Fruity Bears but I was just calling them jelly bears. They're not rubbery like gummis, just soft and chewy with a slight bounce to them. They also use pectin as their gelling agent.
The little sugar sanded bears are very cute. They seem to come in the same flavor set as the jelly beans: Grapefruit, Lemon, Orange, Cherry & Strawberry.
I liked these a lot. I liked them a lot more than the jelly beans because the flavor was in the jelly, not in the sugary coating. The citrus flavors were my favorite.
These are also marked vegetarian but contain beeswax.
The Gummy Bears honestly looked no different than any other gummi. The little bear shapes were rather like the Trolli with their well definted paws and eyes. The gummi texture was bouncy with excellent well rounded flavor - good sweetness, good fruit and good tart. The flavors themselves were a little muddier in their distinctiveness. There was a berry, lemon and orange. There may have been two berry flavors, the colors weren't that different and neither were the flavors.
These were not vegetarian because of the presence of gelatin and not completely organic.
I found them online for $1.75 a bag, which is about $10 a pound ... a bit more than Jelly Bellies and other gourmet sugar candies. If you're looking for a slightly more wholesome candy for your kids (especially for their Easter basket) that doesn't look like a compromise to them (unless they're reading the packages), this is a great option. The flavor and eating experience is exactly the same - so your kids won't feel like they're getting a compromise candy. Let's face it, part of the appeal of candy to kids is the look of it, and these gummi bears, in the palm of your hand, look like gummi bears. They won't miss the artificial colors.
Related Candies
Name:
Surf Sweets: Jelly Beans, Fruity Bears & Gummy Bears

RATING:
SUPERB
YUMMY
TASTY
WORTH IT
TEMPTING
PLEASANT
BENIGN
UNAPPEALING
APPALLING
INEDIBLE

Brand:
Surf Sweets (Santa Cruz Nutritionals)
Place Purchased:
samples from Surf Sweets
Price:
retail $1.75 a bag
Size:
2.75 ounces
Calories per ounce:
102, 95 & 95
Categories:
Jelly, Gummi, United States, Easter, Organic
Monday, March 12, 2007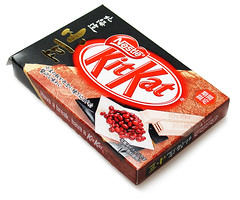 I'm a mochi fan. When I'm down in Little Tokyo here in Los Angeles I like to pop into Fugetsu-Do and buy some wagashi with red bean paste (they do a lemon one with white bean that's pretty good too). It's not a mainstream taste for the American market though.
I was pretty excited to hear about the KitKat Azuki, though I had my doubts about how well it'd go with chocolate.
As KitKats out of the package go, this has to be the most unappealing. It has a base of white chocolate but the little sticks are a light pink with some dusty mauve tones, just kind of mousey looking. It smells milky with a little touch of an earthy quality to it.
The first bite is crisp and sweet and it isn't until later as it's all mashed up in the mouth that the red bean notes come out. It's not a loud and obvious flavor, just a light earthy quality, a little like beets or kidney beans. It's not as unnerving as the Pumpkin ones from last year, but not something I'm terribly interested in again. This experience does not diminish my desire for mochi.
I have to admit that I liked this one. I saw other people chatting about it on the internet and I thought it sounded horrible. The Fruit Parfait KitKat seems to be a mix of banana, melon, orange, blueberry and strawberry flavors if the photo is accurate.
I can't say I have a lot experience with fruit parfaits ... are they like a fruit tiramisu? (On a vaguely related note, in my youthful ignorance I thought that tiramisu was a Japanese dessert before I'd actually had it.)
It's another one of those white chocolate KitKats.
The bars really aren't that attractive with their rippled colors of white chocolate. They smell like a cross between bananas and yogurt. The taste is rather similar. The white coating isn't too sickly sweet and has some nice berry flavors with an overall banana background. I even got some melon and blueberry flavors in there sometimes. The wafers are crisp and feature a cream filling that's a little pink and has more of the berry flavors to it.
I liked it. I ate it. I hope I don't run across any others, it's one of those candies that doesn't make me feel good about myself for liking it. (Is it the polka dots on the package? The smell? The word Parfait? Should I run a poll?)
Monday, March 5, 2007
Kokosowe is a dark chocolate covered coconut center. The center is not at all like a Mounds bar, but more like a coconutty York Peppermint Pattie ... it's a stiff and slightly crumbly fondant that melts in your mouth and then later the chewy toasted coconut becomes chewy.
I'm a fan of coconut and I enjoyed the more toasted flavors, a refreshing change from the usual sticky chew of a Mounds bar.
Kasztanki is a large chestnut looking piece like the others. This one is a semisweet chocolate covering a center of cocoa cream and crushed wafers. It's crunchy and has a light rum and perhaps coffee flavor to it. The crunch is really interesting because the bits are so small and the flavor is rather light. It reminded me a bit of some other Eastern European candies I've had before, except this is good quality.
Malaga was the one name that I kind of understood, though I'm not sure what the candy is. As far as I can tell it's a flowing raisin caramel center in semi-sweet chocolate. Or perhaps the center is more like a cordial or marmalade. It's a rather unusual combination but the flavor reminds me a little bit of the Rum Nougats that See's makes (but not the texture, of course). There are little bits of raisins and the dark chocolate provides a good complement to the sweet but flavorful center.
Tiki Taki was definitely the most interesting of the bunch with an uncommon combination of flavors. The top layer is a nice mild peanut butter praline, and the bottom layer is a smooth but crumbly fondant of coconut like the Kokosowe. It seems to work pretty well, the roasted nut flavors of the peanut butter go really well with the coconut, which plays it pretty mild here.
Wawel may be popping up more in ethnic and upscale grocers. I wouldn't be surprised if you see it at places like Cost Plus World Market. Part of what I find interesting is that these chocolates taste different than others. The flavor combinations on both the Tiki Taki and Malaga are unlike others that I've had. As long as the price points are consistent with other upscale consumer chocolates, I can see them making inroads here in the states. View their online catalogue. I could only find one online retailer (Canadian) that had Wawel products, but it at least gives the sense that as an imported chocolate brand they're quite reasonably priced.
Name:
Wawel Chocolate Assortment

RATING:
SUPERB
YUMMY
TASTY
WORTH IT
TEMPTING
PLEASANT
BENIGN
UNAPPEALING
APPALLING
INEDIBLE

Brand:
Wawel
Place Purchased:
samples from Fancy Food Show
Price:
unknown
Size:
unknown (about .75 ounces each)
Calories per ounce:
unknown
Categories:
Chocolate, Peanuts, Cookie, Coconut, Poland
Friday, March 2, 2007
My next door neighbors went to Peru for three weeks and brought back a huge cache of Peruvian (and South American) consumer candies. (They also brought some cookies, but I'll try to keep this focused.) I find it quite fun to sample the consumer candies of all countries and regions and Peru was no different. So here are nine candies from Peru:
Name: Lentejas
Brand: Nestle
Size: 36 grams
These little guys probably look familiar. They're chocolate lentils ala Nestle Smarties. Only they're not quite Smartie-like ... they're the same size as M&Ms (Smarties are just slightly flatter and larger than M&Ms). The shell on these is very thick and crunchy. The colors are unbelievably bright.
The chocolate itself is only so so - grainy, too sweet and completely lacking in chocolate taste.
Rating: 4 out of 10.
Name: Prime Peruvian Milk Chocolate
Brand: Winter's
Size: 100 grams
This bar had a lovely photo of the cloud-wrapped city of Machu Picchu on the box. Inside the box the large chocolate tablet was inside a plastic wrapper that looked exactly the same.
The bar was attractive: a dark looking milk chocolate.
The snap was not as sharp as some dark chocolates can be and it had a rather soft bite as many milk chocolates do. The flavor is rather milky, in a goat-cheese sort of way, with a little tangy note. The flavor of the chocolate was also strongly raisiny. It was very pleasant though completely different than most other milk chocolate bars I've had.
Rating: 7 out of 10.
Name: Cua Cua
Brand: Lacta (Kraft)
Size: 18 grams
This is one of those bars that looks huge. The package is about the size a set of Twix bars, yet it only weighs 18 grams. This featherweight bar is all wafers with some light mockolate coating. Between the wafers is a little cocoa cream.
The bar, called Cua Cua, I'm guessing is a play on the sound a duck makes.
The bar smells sweet and a bit of chocolate. It's also a little smoky smelling, though I couldn't quite figure that out from the ingredients.
The smoky notes gave it a little bacon flavor that I wasn't really happy with. The wafers were crunchy and foamy - providing more light texture than taste in this party in my mouth.
The mockolate was of course waxy and unappealing. It often flaked off the bar when I bit into it. I'm a big fan of wafer with cream (I can't imagine how many pounds of Nabisco Wafers I've eaten over the years) but this one just wasn't quite as ducky as I'd hoped.
Rating: 3 out of 10.
Name: Ca?onazo
Brand: Costa
Size: 26 grams
This bar calls itself "barrita ba?ada rellena con crema de chocolate" which I'm guessing means chocolate filling with crisp wafers bathed in chocolate.
The crisp log of wafer was interesting, kind of like a sweet Cheeto. The chocolate filling was like a frosting, with a good chocolate taste and slightly grain. Like the Cua Cua, this was a light bar. Though it's big it only weighs 26 grams (and is the size of a Snickers ... which are 58 grams). Unfortunately the coating on the outside isn't chocolate and it's rather waxy and uninteresting.
Rating: 4 out of 10.
Name: Gomas Eucalypto
Brand: F y D Inversiones, SAC
Size: 125 grams
These are crazy! Crazy, I tell you.
They're little gummis covered with granulated sugar. About the size and shape of an incense cone. Nice and soft but with a good gelatin bounce. They look like they could be green apple or lime or maybe even spearmint. But they're not. They're mentholated eucaplytus flavored. Just like Hall's Cough Drops.
They're sweet and aromatic and tingly.
It's rather refreshing to get a cough drop that's not all crunchy and hard, instead it's soothing and invigorating all at once.
Definitely a winner in my book.
Rating: 7 out of 10.
Name: Nikolo
Brand: Arcor
Size: 30 grams
The packaging here is pretty, it's a white thick plastic wrap with a bold brown logo for the name of the bar and pretty little pictures of the nuts in the bar.
The label says, "tableta con sabor a chocolate rellena con mani almendra y cereal crocante" which means "peanut, almond and crispy cereal filled chocolatey bar."
The chunky look of the bar reminded me of Legos and was just about as tasty.
The nuts were fresh and crunchy and gave the bar a promising aroma, but the mockolate in this bar was waxy, chalky and just so bad. Look at it in the photo ... does that look like something you're supposed to eat or something I molded out of dung?
Rating: 2 out of 10.
Name: Golpe
Brand: Arcor
Size: 27 grams
If it weren't for the Arcor brand on this, I'd be looking forward to this bar. The label says "Oblea rellena cubierta con caramelo y cereal crocante, con cobertura sabor chocolate" ... which translates to (courtesy of the wrapper, thankyouverymuch) "Filled wafer, toffee, crispies, all covered with chocolate flavor."
Oh Arcor, again with the chocolate flavor? Is that why your company motto is "Le damos sabor al mundo" (translation: We flavor the world)?
It's a nice looking wrapper and it made me think of soccer.
The bar looks promising as well, with it's crunchy studded mockolate. Inside are wafers with creme filling and then a scant covering of glistening caramel (I'm guessing that's the toffee). The wafers are nice, and the toffee adds some nice flavor to the whole thing, but the bar had a rather chemical taste, like licking fresh dry cleaning. I don't know if that's the taste of Carbox/Methylcellulose (the last ingredient on the list), but it made my tongue buzz.
After this series of Arcor products they are now on my list as the Worst Candymakers in the World. (Granted, I haven't tried everything made by everyone yet.)
This candy bar was made in Chile.
Rating: 2 out of 10.
Name: Sublime
Brand: Nestle
Size: 22 grams
This is a cute little bar. The wrapper says, "Chocolate Blanco de leche con Mani" which is "white milk chocolate with peanuts." Doesn't sound too bad.
And it is pretty cute to look at.
The chocolate is rather sweet, but also has a salty bite to it, which helped the peanut flavors stand out. I'm wondering if this was not de-odorized cocoa butter (most white chocolate is deodorized, so it has no chocolate flavor to it). It just may have been that the milk flavors with the peanuts were strong.
It was actually pretty good white chocolate bar. A little grainy but not the least bit waxy.
This bar was made in Bolivia.
Rating: 5 out of 10.
Name: Princesa
Brand: Nestle
Size: 38 grams
This is a cute little bar and of course has a upscale appeal of a regal name like Princesa. The ingredients are promising too, real chocolate in there.
The bar says that it's "chocolate relleno con crema de mani" which means "chocolate stuffed with peanut butter." Yum!
The chocolate here is dark (though there's some milk listed in the ingredients, it's way down the list). It's a creamy though sweet bar. The peanut butter is very smooth and creamy as well and is completely overshadowed by the chocolate.
There's a little spicy taste in the background, kind of like cinnamon.
This is a nice bar, not as peanutty as I expected, but as sedate and reserved as you'd expect from royalty.
Rating: 6 out of 10.
Friday, February 23, 2007
Jelly Belly introduced a new product line this year: Jelly Belly Lollibeans.
They're premium lollipops in Jelly Belly flavors. I tried a good assortment of their current line, courtesy of many visits to their booth at the Fancy Food Show and rummaging around in the samples bin.
Sizzling Cinnamon - a pretty sassy flavor. Not too hot, but a little too "flavory" for me without the burn that I was hoping for. I mean, they put "sizzling" in the name.
Cotton Candy - sweet and plain and delicious.
Tangerine - softly orange with a subtle zesty hit. No tart ring to make it juicy.
Bubble Gum - this one is the most alarming looking, it's a bright, opaque pink. A slight tutti frutti element to it, but not really that unlike Cotton Candy.
Lemon - I'd call this light lemon. It's sweet and fruity but has no tangy element to it.
Root Beer - I was really looking forward to this one. It smelled sweet and earthy. It's smooth, like a really dense Root Beer Barrel (but no sharp voids to cut your mouth). I was not disappointed, this is a real winner.
The quality of the candy is great. It's very dense, ultra smooth and lasted a long time. However, the size and shape of the pop is a challenge. The bean is perpendicular to the stick, so it's pretty wide (1.75") for placing comfortably in the mouth. Sucking on them, because of the shape, also tends to be a little noisy, it took me a few pops before I got my consumption tactics honed to the point of silence. Another small pet peeve of mine with premium pops like this is that the stick is paper and you can suck air through when you dissolve far enough down on the stem, for reasons I don't quite understand, this results in more slobber.
If you've ever had Linda's Lollies, these are very similar. I think I still prefer the fruit flavors in Linda's because they're a little more rounded and of course there's a much larger variety ... but she also has a 20 or so year head start.
The other flavors I didn't try were Watermelon, Grape, Strawberry Cheesecake & Very Cherry.
These should be hitting stores soon, though there's still nothing about them on the Jelly Belly website. You can order them on the web, but you have to get full cases of single flavors. Retail they're supposed to go for 79 cents to 99 cents.
Name:
Lollibeans

RATING:
SUPERB
YUMMY
TASTY
WORTH IT
TEMPTING
PLEASANT
BENIGN
UNAPPEALING
APPALLING
INEDIBLE

Brand:
Jelly Belly
Place Purchased:
samples from Jelly Belly
Price:
retail $.99 each
Size:
1 ounce
Calories per ounce:
unknown
Categories:
Hard Candy, United States, Jelly Belly
Tuesday, February 20, 2007
Everybody has a different name for caramel nut clusters covered with chocolate. Sanders Candy, the Detroit-based candy and fudge sauce company, calls theirs Cashew Titans. Pretty good name, if you ask me.
These are compact candies with a nice layer of cashews on the bottom, a dollop of caramel and milk chocolate enrobing the whole thing.
The cashews are fresh and crunchy, though I could use a hit of salt on them and perhaps a few more. The chocolate was okay, very sweet but nice and creamy. The caramel has a good chew, soft and not too sticky but lacking a dark caramelized flavor that would match so well with the buttery crunch of the cashews.
Rating: 7 out of 10
Sanders also sent me some of their Caramels to try as well (and some other goodies that I'll cover in a few weeks). This box of milk chocolate covered caramels were absolutely lovely. Yes, the plastic tray that anchors them in the box isn't as classy looking as pretty little fluted cups, but I have admit that they looked glossy and flawless when I opened it.
It's only your imagination that these look darker than the Cashew Titans, I think it's the dark chocolate striping that makes it look darker. It certainly tastes like the same chocolate.
The caramel is smooth and without the cashews does hold up well on its own. The chocolate is sweet and I find it just a little too much for the caramel, but some careful nibbling around the edges creates a more ideal ratio (I do this with a lot of candies, as far as I'm concerned the coating on a Heath bar is disposable).
I can't eat many of these at once, so far two has been my limit. But with a few pretzels as a crunchy and salty complement make for a tasty dessert. The price on these, for handcrafted candies is pretty good though and I'd certainly want to try one of their dessert shops if I were in the area.
Rating: 6 out of 10
Name:
Sanders Cashew Titans & Milk Chocolate Caramels

RATING:
SUPERB
YUMMY
TASTY
WORTH IT
TEMPTING
PLEASANT
BENIGN
UNAPPEALING
APPALLING
INEDIBLE

Brand:
Sanders Candy
Place Purchased:
samples
Price:
$6.99 per box
Size:
7 ounces & 8 ounces
Calories per ounce:
103 & 106
Categories:
Chocolate, Caramel, Nuts, United States, Kosher
Friday, February 9, 2007
SweeTarts are made in special shapes for just about all the holidays. You can get them for Halloween, Christmas and Easter (maybe they even do all green packages for St. Patrick's Day) and of course they have a version for Valentines Day: SweeTarts Hearts.
The packaging and candy is pretty much a rip off of the Necco Conversation Hearts. It's a little box that's ready to be addressed to your Valentine with little heart shaped candies inside with sayings on them.
The mottos aren't earthshatteringly cool, just classic little lovey-doveyness. "Hug Me" "Love Ya" "Yes" "I'm Yours" and "Kiss Me". Unlike the other conversation hearts out there, these are not printed, the lettering is engraved (or pressed) right into the compressed dextrose tablets. The candies meet the highest quality standards too, they're always heart shaped and perfectly formed with readable lettering (I know I've gotten some pretty mangled hearts before from Necco).
Besides the shape, these are just plain old SweeTarts. They are an abbreviated flavor set: Orange, Cherry and Grape. As I don't care for the Cherry, about one third of this box was "for sharing." Now, I'm not sure if this is the way it's supposed to be, the package shows green and blue hearts in the design (but no yellow).
I paid $.79 cents for this box, which is a bit high. I didn't see any larger packages of them where you could get a ten pack and have your kid give them out as Valentines or anything. But if I saw these in the 75% off bin after Valentines I might pick them up. But I miss my yellow SweeTarts.
Name:
SweeTart Hearts

RATING:
SUPERB
YUMMY
TASTY
WORTH IT
TEMPTING
PLEASANT
BENIGN
UNAPPEALING
APPALLING
INEDIBLE

Brand:
Nestle
Place Purchased:
Walgreen's (Echo Park)
Price:
$.79
Size:
1.5 ounces
Calories per ounce:
113
Categories:
Dextrose/Chalk, Sour, United States, Nestle