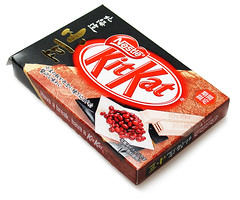 I'm a mochi fan. When I'm down in Little Tokyo here in Los Angeles I like to pop into Fugetsu-Do and buy some wagashi with red bean paste (they do a lemon one with white bean that's pretty good too). It's not a mainstream taste for the American market though.
I was pretty excited to hear about the KitKat Azuki, though I had my doubts about how well it'd go with chocolate.
As KitKats out of the package go, this has to be the most unappealing. It has a base of white chocolate but the little sticks are a light pink with some dusty mauve tones, just kind of mousey looking. It smells milky with a little touch of an earthy quality to it.
The first bite is crisp and sweet and it isn't until later as it's all mashed up in the mouth that the red bean notes come out. It's not a loud and obvious flavor, just a light earthy quality, a little like beets or kidney beans. It's not as unnerving as the Pumpkin ones from last year, but not something I'm terribly interested in again. This experience does not diminish my desire for mochi.
I have to admit that I liked this one. I saw other people chatting about it on the internet and I thought it sounded horrible. The Fruit Parfait KitKat seems to be a mix of banana, melon, orange, blueberry and strawberry flavors if the photo is accurate.
I can't say I have a lot experience with fruit parfaits ... are they like a fruit tiramisu? (On a vaguely related note, in my youthful ignorance I thought that tiramisu was a Japanese dessert before I'd actually had it.)
It's another one of those white chocolate KitKats.
The bars really aren't that attractive with their rippled colors of white chocolate. They smell like a cross between bananas and yogurt. The taste is rather similar. The white coating isn't too sickly sweet and has some nice berry flavors with an overall banana background. I even got some melon and blueberry flavors in there sometimes. The wafers are crisp and feature a cream filling that's a little pink and has more of the berry flavors to it.
I liked it. I ate it. I hope I don't run across any others, it's one of those candies that doesn't make me feel good about myself for liking it. (Is it the polka dots on the package? The smell? The word Parfait? Should I run a poll?)
POSTED BY Cybele AT 11:36 am