When the classic Slo Poke Caramel was revived earlier this year, its chocolatey partner Black Cow was also on the slate for reboot by the Classic Caramel Company.
Originally released back in the 1920s by Holloway, makers of Milk Duds, the Black Cow was just a chocolate covered Slo Poke (not that dissimilar from the Sugar Mama which was a chocolate covered Sugar Daddy.) In this new version the Black Cow becomes an actual chocolate infused caramel.
The candy now comes in two formats, a large bar (in this case mine is 20% larger at 1.6 ounces instead of the standard 1.5 ounce) and the little individually wrapped pieces.
Unlike Tootsie Rolls which only have cocoa in them, Black Cow uses whole chocolate (cocoa liquor which includes cocoa butter) in their recipe.
The chew is quite soft. Though you can whack it to make bite sized pieces, I found I had to refrigerate mine. (And once I had broken it into pieces, they reformed into the bar after they came back to room temperature.)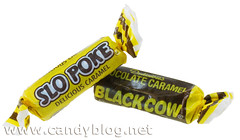 The chew is not quite as smooth as the Slo Poke or even Tootsie Rolls. But the flavor is actually very well rounded - the chocolate notes are rich and woodsy thought not entirely chocolatey. It's kind of nutty with creamy dairy flavors that are authentic without a greasy partially hydrogenated taste. Still, the ingredients aren't exactly wholesome, which is sad because real caramel doesn't really have a lot of expensive ingredients and is relatively shelf stable. This one has both high fructose corn sweetener and partially hydrogenated coconut oil in the list (though very far down, not as predominant ingredients).
For a really satisfying, very chocolatey caramel, you really can't beat the Storck Chocolate Riesen, which is an actual real chocolate covered chocolate caramel. However, these are far and away better than a Tootsie Roll, which never ceases to bring chewable cardboard to my mind unless encased in hard candy and on a stick.
Trivia: back its heyday the Holloway Black Cow came in a lot of other flavors, including Purple Cow, Pink Cow and Orange Cow, plus the tantalizing Banana Cow.
Related Candies
Name:
Black Cow Delicious Chocolate Caramel

RATING:
SUPERB
YUMMY
TASTY
WORTH IT
TEMPTING
PLEASANT
BENIGN
UNAPPEALING
APPALLING
INEDIBLE

Brand:
Warrell Corp
Place Purchased:
Dollar Tree (Morro Bay, CA)
Price:
$1.00
Size:
1.6 ounces
Calories per ounce:
138
Categories:
Candy, Caramel, 7-Worth It, United States, Dollar Tree
POSTED BY Cybele AT 3:36 pm
Candy • Review • Warrell Corp • Caramel • Kosher • 7-Worth It • United States • Dollar Tree •