The Slo Poke Caramel Pop was introduced in 1926 by the Holloway Candy Company. It was a simple, firm, rectangular caramel lollipop. It was sold for the first time the year after the Sugar Daddy made its debut (as the Papa Sucker). As the name might imply, the Slo Poke was a candy to savor and enjoy over a long time. The sucker format meant that kids would either allow it to dissolve or nibble off bites to chew.
As with most candy products of this age, it's been through many owners. MJ Holloway, also the maker of Milk Duds, sold out to Beatrice Foods in 1960. Beatrice later sold off their confectionery division to Leaf and Leaf divested its candy lines to several different companies. Milk Duds went to Hershey's and Slo Pokes and their chocolate brethren, Black Cow, went to the Gilliam Candy company in 1998. For a brief time in this century, Slo Pokes stopped being made until the Warrell Corporation acquired the brand and recipe and began making them again last year under their new Classic Caramel Company (which also reintroduced Bonomo's Turkish Taffy).
The new format of the revived Slo Poke is the 1.8 ounce bar. It's a big plank of caramel. Like Turkish Taffy and other taffy/nougat candies, the simplest way to serve yourself is to whack the package on a hard surface to break it into bite sized pieces. I chose to eat mine in all of its chewy wholeness.
The texture is soft, much softer than a Sugar Daddy, which is the closest approximation to this candy. Like the Sugar Daddy, this is a true caramel. The first ingredient is corn syrup, followed by sweetened condensed milk and then more sugar. The color is dark and authentically toasted sugar. The flavor is quite sweet and the texture is mostly smooth. There's a slight grain to it towards the end that I can only equate with a Sugar Baby or a poorly made fudge.
The flavor is almost exactly like the center of a Milk Dud (as you can imagine). It's not quite as tough or smooth a chew as the Duds though.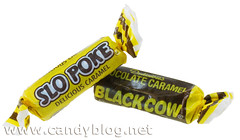 The ingredients aren't as pure as I'd like. Far down on the list is high fructose corn syrup, which an extremely rare ingredient in candy as well as partially hydrogenated coconut oil, calcium caseinate, distilled monoglycerides and artificial flavors. For something that's labeled as Real Caramel I have to wonder what that actually means.
I liked the bar, mostly because it was soft and easy to eat. I don't recall buying these much as a kid, I really was more of a Sugar Daddy fan, though those are certainly more threatening to teeth and dental work. I think my favorite easy-to-eat caramel is still Sugar Babies though, partly because they're a bit neater and partly because they're so cute but mostly because I prefer the mix of the smooth texture of the caramel center with the grainy jelly bean style coating. But if I was really going to satisfy my caramel cravings I'd have to go with Walkers' Nonsuch Toffee.
The candies are no longer made in their original lollipop format. They're sold in bars or the little, individually wrapped bite sized pieces. I don't think those who loved the original are going to be disappointed with this resurrected version.
Related Candies
Name:
Slo Poke Delicious Caramel

RATING:
SUPERB
YUMMY
TASTY
WORTH IT
TEMPTING
PLEASANT
BENIGN
UNAPPEALING
APPALLING
INEDIBLE

Brand:
Warrell Corp
Place Purchased:
Dollar Tree (Morro Bay, CA)
Price:
$1.00
Size:
1.6 ounces
Calories per ounce:
131
Categories:
Candy, Caramel, 7-Worth It, United States, Dollar Tree
POSTED BY Cybele AT 1:14 pm
Candy • Review • Warrell Corp • Caramel • 7-Worth It • United States • Dollar Tree •