KitKat
Thursday, January 3, 2008
I have lots more candy to tell you about that I haven't done full reviews for. Here's a half dozen of them.
First is the Nestle KitKat Peanut Butter from Canada. The format on this bar is the single chunky finger. This is actually larger at 1.76 ounces than the American single finger bar which is 1.59 ounces. I found this bar at Mel & Rose's Wine & Liquors on Melrose Ave a month ago.
The bar is thick and chunky but follows the standard KitKat formula.
There are wafers with cream filling then a thick stripe of peanut butter all covered in milk chocolate.
The package smelled strongly of raw peanuts when I opened it. Roasted peanuts have a deep and smoky tone to them, this was that higher octave scent, like freshly snapped peas mixed with peanuts.
The crunch of the bar was good, but there's definitely a lot of chocolate in operation here. The peanut butter stripe is great. It's very flavorful despite being so thin. It's not sweetened at all, in fact it's pretty salty. I preferred eating this bar like I eat most KitKats. I nibble off both ends of chocolate, then all the chocolate off the sides. Then I eat the less-chocolatey remains.
It was really good and I think I'd buy this if I could find it at my local store. Far more satisfying than a regular KitKat (4 grams of protein - one more than a regular) and not nearly as sweet.
Rating: 7 out of 10
Das Caramelini has a couple of new flavors. Most of the other candy bloggers also go free samples from Katie Das and covered it far quicker than I did, so I didn't put down my thoughts right away.
She sent me Ginger & Pistachio which I already reviewed and loved last spring. The new-to-me flavor was Cafe Cortado. It's a vanilla caramel with coffee.
Unfortunately I'm not keen on coffee beans in my food. It might be that I have a problem with caffeine or it might be that I don't care for the texture, but these just didn't do it for me. I tried a few, but I was very aware that I needed to eat them before noon (as I don't drink coffee after that) which always made me feel pressured.
The great news though is that the wrapping of the caramels has been changed to a heavier waxed paper. They no longer stick to the paper and are far easier to keep popping in your mouth. The box looks deceptively small but holds a quarter of a pound of rich, boiled sugar & butter. You can order direct on their website for about $6.99 a box (less if you order more).
Rating: 8 out of 10
I ordered these Meiji Kaon Citrus from JBox.com last fall. I wasn't quite sure what they were, but citrus and gummi combined with a brand like Meiji and I figured I could take a chance.
They're not a transparent gummi, instead they're opaque and matte. They're still very soft and bouncy. They have a distinct bite, not a rubbery as a German gummi. The thing that was most clear was that this is a real fruit product. The texture feels a bit like pear, there's a slight grain to it. Then there were a few bits of zest in there.
The flavor is predominantly tangerine with a little dollop of grapefruit & lemon in there for good measure. Completely addictive, I ordered two bags and ate both. They're small bags though at only 35 grams each. I can't remember how much I paid for them and of course JBox doesn't have them on their site right now. (Here's the official webpage.) See Sera's review.
Rating: 8 out of 10
I picked up these little beauties at the All Candy Expo as samples, but I still haven't found them in stores.
The Traditional Halva bars from Sultan's Finest Foods are little .71 ounce bits of plain halva. They're smooth and creamy with a strong sesame flavor to them.
It's the perfect portion size, if only I can find them somewhere. These are made in Tunisia, and may be the first Tunisian candy mentioned on the blog! They're imported by Agora International and come in a sugar free version as well. I think these sorts of sesame snacks are ideal, especially for hot weather. It's creamy and filling, not too sweet and of course does better in hot weather than chocolate.
Rating: 7 out of 10
I've seen the Sencha Green Tea Mints at stores for years. I just couldn't get my brain around them for the longest time. I like a mint that has some zazz to it, and the idea of green tea in a mint seemed to defeat the purpose.
These were sample packages that I picked up at ExpoWest which is for natural products. They're usually sold in little maroon or dark colored tins with a clear top. These compressed candies are made from xylitol & sorbitol, which are natural sugar alcohols. They have a cool feeling on the tongue (and shouldn't be consumed in large quantities because of some digestive troubles they can cause) and a subtle flavor.
The three flavors I got were: Delicate Pear, which is just slightly fruity and sweet. Green Tea was subtle and while fresh tasting, didn't leave that minty burn.
Lively Lemongrass was, well, lightly lemon, but not quite lively.
The tea ingredients are fair trade and xylitol is supposed to be a pretty good base for gum & mints (not bad for your teeth, but bad for dogs). It's hard to find sugar free mints that don't have artificial sweeteners in them, so if you're looking for something that fits that niche, these might be for you.
Rating: 5 out of 10
I'm very late with my write up on Stained Glass Candy. I ordered it online about a year ago. I expected it to be pretty little hexagonal disks of candy (about the size of a quarter), but the photography on their website didn't prepare me at all for how lovely this stuff was.
Though it's expensive for hard candy at $12.95 a pound (when you order 2 pounds), I figured I'd give it a try. The cool thing is that you can custom design your flavor mix, so I chose one pound of herbs & spices: cinnamon, hot cinnamon, wintergreen and anise. The second pound I did as fruits: banana, orange, lemon and pineapple.
Each piece came sealed in a little clear plastic sleeve with the name of the flavor printed on it. This was helpful as I'd ordered both cinnamon and hot cinnamon (definitely a difference!). The shapes were lovely, the colors clear (except for banana), distinctive and tasty. I loved the pineapple and anise especially.
The downside is that they're a little softer than some hard candies, so they either need to be stored in a fridge to keep them from losing their shape eventually or just eaten quickly. The softness also means that they stick to teeth and can't be crunched. But I kind of like slowly shaping them to the roof of my mouth.
I probably wouldn't order these again unless I had a special need for them like a party or something. They'd make nice wedding favors or for a shower or something. But at five times the price of regular hard candy, it'd have to be a very special occasion or a very special flavor.
Rating: 6 out of 10
Related Candies
Thursday, July 19, 2007
These are from Japan and come in a few different varieties. They're called Inside Out KitKats. I was calling them Naked KitKats for a while until I found out the real name.
They're a KitKat without the coating. The bar is longer (about 5.5") and generally larger. The center filling is lightly flavored. I think the one pictured is Chestnut.
A few KitKat variations out there seem to be breaking the rules of KitKats ... KitKats are supposed to be multi-bars that can be snapped into fingers to share or enjoy slowly. (I've never met anyone who just chomps on a whole KitKat.)
But this comes down to the discussion of what should be included under a particular candy "brand". When I think of Reese's, the essential element is peanut butter and the secondary element is cups ... the third element is chocolate. You can add things in there, but but taking away more than one of those essentials just mucks with it so much that it ceases to be a Reese's.
The same goes with KitKat. It has to be fingers (even if the fingers are sold individually), it has to have crispy wafers and it has to have some sort of chocolate coating (be it white, milk or dark). Here we've lost the coating and the "fingers" have become as large as rods.
Okay, so maybe they're not KitKats. What are they? They're cookies. Cookie wafers with a cream filling and I dare say it, they're no longer candy. They fall into the confectionery category, but out of my realm of specialization.
Naming and placement on the taxonomic chart of candy aside, these are okay. The wafers are certainly crispy, but they're also dry. There's not enough cream filling to give them much of a flavor, and subtle is fine, but there's so little going on here. I'd say they're the perfect summer candy bar because there's no worries about melting, but there's also so little moisture here I'm worried about dehydration and these sucking what little fluids I have left out of my system.
I tried two flavor sets: chestnut and mango. Chestnut is pleasant because the sweet nutty flavors go with the cream sweetness. The mango was just weird, the pine-type flavors of the cream just seemed to fight with the bar on the whole. Perhaps if it had a bit of a tang to it or recognized more of the juiciness of the fruit instead of just the flavor, it might have worked more. Of course that would be an even larger departure from the KitKat-ness.
I still have a few of these left (and I've had them since January - both Amy in Japan and Santos gave them to me) and even when I eat them and find them okay, I keep forgetting I have them and when I see them sitting there I have no impulse to eat them.
Related Candies
Name:
Inside Out KitKat

RATING:
SUPERB
YUMMY
TASTY
WORTH IT
TEMPTING
PLEASANT
BENIGN
UNAPPEALING
APPALLING
INEDIBLE

Brand:
Nestle
Place Purchased:
gift (thanks Amy & Santos!)
Price:
unknown
Size:
unknown
Calories per ounce:
unknown
Categories:
Cookie, Japan, Nestle, KitKat
Monday, June 4, 2007
Australia has not been left out of the KitKat craze, but they're a little harder to get a hold of. One of my co-workers happens to be married to an Aussie, so on his last trip to visit family I gave him some bucks and asked for anything that caught his fancy (knowing me of course). Some I just ate, but these I thought I'd at least share a little about.
KitKat Temptations: Coconut Eclair: The big dome over the narrow little pair of wafers is filled with a sweet and mildly coconutty cream. The cream is kind of a cross between the inside of a York Peppermint Pattie and a truffle. Not quite smooth, not quite buttery, but not as crumbly as the fondant of a York.
The cookies don't even take a back seat here, they're on a trailer being towed behind. One of those shocks that would greet you as you were looking to change lanes and saw that the Coconut Eclair had passed you and you were trying to get out from behind some mollasses Slo-Poke and didn't realize that they had that wafer cookie trailer bouncing along behind, without lights or any of those red dangly flags. Then you slow down and smack your own forhead and say, DUH! It's a KitKat!
KitKat Temptations: Hazelnut Praline: This one smelled kind of like maple, but perhaps pecan, if we're talking about nuts. I know Australia is a half a world away, but I also know they grow hazelnuts, so I can't quite figure out the lame taste on this one. It's all very sweet. The nutty cream center is rather like Nutella, but lacks that nutty punch. Instead it's flavored like nuts, but doesn't taste like them ... ya know? There are a few little crushed nuts in there (as there should be, the picture on the wrapper illustrates them) but they just didn't strike me as hazelnuts. They could have been almonds.
Yeah, I'm just not getting the KitKat vibe here. KitKats are all about the wafers, grainy cream and chocolate. Anything added is great, but don't muck with the basics.
You may have tempted me once, but you'll not snare me again.
Name:
KitKat Temptations: Coconut Eclair & Hazelnut Praline

RATING:
SUPERB
YUMMY
TASTY
WORTH IT
TEMPTING
PLEASANT
BENIGN
UNAPPEALING
APPALLING
INEDIBLE

Brand:
Nestle
Place Purchased:
gift (thanks Brett!)
Price:
unknown
Size:
40 grams
Calories per ounce:
unknown
Categories:
Chocolate, Cookie, Coconut, Nuts, Australia, Nestle, KitKat
Monday, March 12, 2007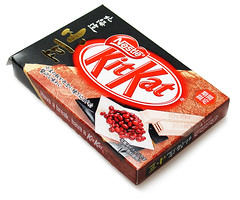 I'm a mochi fan. When I'm down in Little Tokyo here in Los Angeles I like to pop into Fugetsu-Do and buy some wagashi with red bean paste (they do a lemon one with white bean that's pretty good too). It's not a mainstream taste for the American market though.
I was pretty excited to hear about the KitKat Azuki, though I had my doubts about how well it'd go with chocolate.
As KitKats out of the package go, this has to be the most unappealing. It has a base of white chocolate but the little sticks are a light pink with some dusty mauve tones, just kind of mousey looking. It smells milky with a little touch of an earthy quality to it.
The first bite is crisp and sweet and it isn't until later as it's all mashed up in the mouth that the red bean notes come out. It's not a loud and obvious flavor, just a light earthy quality, a little like beets or kidney beans. It's not as unnerving as the Pumpkin ones from last year, but not something I'm terribly interested in again. This experience does not diminish my desire for mochi.
I have to admit that I liked this one. I saw other people chatting about it on the internet and I thought it sounded horrible. The Fruit Parfait KitKat seems to be a mix of banana, melon, orange, blueberry and strawberry flavors if the photo is accurate.
I can't say I have a lot experience with fruit parfaits ... are they like a fruit tiramisu? (On a vaguely related note, in my youthful ignorance I thought that tiramisu was a Japanese dessert before I'd actually had it.)
It's another one of those white chocolate KitKats.
The bars really aren't that attractive with their rippled colors of white chocolate. They smell like a cross between bananas and yogurt. The taste is rather similar. The white coating isn't too sickly sweet and has some nice berry flavors with an overall banana background. I even got some melon and blueberry flavors in there sometimes. The wafers are crisp and feature a cream filling that's a little pink and has more of the berry flavors to it.
I liked it. I ate it. I hope I don't run across any others, it's one of those candies that doesn't make me feel good about myself for liking it. (Is it the polka dots on the package? The smell? The word Parfait? Should I run a poll?)
Tuesday, March 6, 2007
Japan is known for cars, Japan is known for electronics. Japan is known for cute. Japan is also home to some of the best KitKats in the world (okay, and some of the worst, but this is the price of innovation and an example of the bell curve).
What else can I say except that the KitKat Bitter is what a KitKat should be all day, every day.
Upon opening one of the two packets that have two-finger sticks, it's obvious this candy is real. The chocolate is dark and glossy and smells like ... chocolate! The package says, in English, "High Grade Cacaomass", which I'm guessing is their way of saying that's it's authentically dark chocolate.
The American dark chocolate KitKats were not nearly as good as these (not that it matters, as they're long gone). The Canadian dark KitKats are close in flavor but lacking in the high-quality chocolate texture.
The wafers are crisp and have that light touch of sweet filling. Yes, the chocolate here is rich and dark and actually slightly bitter as the label advertises. It's a little dry as well. But it's just so real tasting, it just spoils me for any other KitKats.
The White KitKat says that it has Nasu Highland Milk. I'm not sure what that is, but I'm sure it's a selling point.
It smells very milky and has a light milky look to it. Though it's sweet, it's not throat-burningly so. The crispy wafers are good and offset the sweetness of the milky coating. As white chocolate KitKats go, I prefer this one to the Matcha from last year that seemed excessively sweet and a bit greasy feeling.
I can't see myself eating this regularly, but I finished the bar, which is a good recommendation for anything containing white chocolate for me (I have a tendency to like them at first but lose interest after a serving). The wafers seemed to be more of a highlight than in the Bitter bar, perhaps a little crispier or maybe I'm better able to discern the flavor of them without the overwhelming chocolate.
See all KitKat reviews to date here. I also have several others prepping for review: Red Bean, Fruit Parfait, Chestnut & Inside Out (various flavors) thanks to Amy & Santos.
Friday, February 23, 2007
Yes, they're back. I've got more KitKats. I've got soooo many KitKats. However, these are the only KitKats branded by an Iron Chef (Yasumasa Takagi).
The pair I'll review today are from the Chocolatier line from Japan: Strawberry, Pistachio, Almond and Thyme. These have been around for a few months and as international KitKats go, they're not that hard to get a hold of, as many eBay vendors, JBox.com and even Amazon seem to have them in stock. They come in a pretty little lift-top box (about the same footprint as a box of tissues) and hold 16 little individually wrapped fingers.
These are slightly smaller than regular KitKats, they're actually the same size as those minis I tried after Christmas in the Dark Mint Chocolate.
This little morsel smells like milk and sugar. There's only the slightest hint of strawberry in there, without the tangy berry bite, just a vague floral taste. The nutty flavors are also very subtle. I got no sense of the thyme whatsoever.
That's not to say that it wasn't nice, it wasn't as sweet as some other white chocolate versions of KitKat, such as the Matcha, it's just so refined it's beyond me. As fruity KitKats go, I think I liked the Strawberry KitKat from Japan a bit better, mostly because it was more strawberry-y.
The second little box is Ujimaccha, Kinako, Ume by Patissier Takagi. That's green tea, soybean and sour plum.
These are also wonderfully pretty. Subtly green and sweet smelling with a little woodsy hit of tea and malt.
The sour plum hits me more as a salty taste, which is good to cut through the sweet white chocolate coating.
The packaging on these is very nice, it's easy to have one or two little fingers and then reclose the box. It's also great for sharing, people think it's a really nice bit of candy I'm offering them. Of course the packaging might be a little extreme, it feels like I've eaten a lot when I have three and there's a huge pile of wrappers next to me and I've eaten less than an ounce.
Sera at Candy Addict also had similar feelings in her review a few weeks ago.
See all KitKat reviews to date here. If you want to see all the KitKats (whether I've reviewed them yet or not) have a look at this Flickr set.
Name:
KitKat Chocolatier: Green Tea & Strawberry

RATING:
SUPERB
YUMMY
TASTY
WORTH IT
TEMPTING
PLEASANT
BENIGN
UNAPPEALING
APPALLING
INEDIBLE

Brand:
Nestle
Place Purchased:
gift (thanks Amy!)
Price:
unknown (~$3.75 retail)
Size:
100 grams
Calories per ounce:
unknown
Categories:
White Chocolate, Cookie, Nuts, United States, Nestle, KitKat
Thursday, January 18, 2007
Come on, admit it! Sometimes you go into the store and see something at an unbelievably low price and you turn up your nose because it could not possibly be any good at that price.
I'll save you from skimming to the end of the review. Yeah, that holds true in the case of American Value bars.
This is a long thin Milk Chocolate bar that clocks in at a respectable 1.4 ounce portion and mentions the price of "4 for a Dollar every day" in a ghastly yellow logo in the corner. The label couldn't possibly be less compelling if you gave me a version of Microsoft Word 95 to make it in. The package says nothing to recommend it, it doesn't get our hopes up, it doesn't lend any expectation to the experience.
Inside the package things get a bit better. It looks like a chocolate bar (and the ingredients reveal it's real chocolate as well). It smells a little nutty and a little like chocolate. Sweet and less that ultra smooth, it's a passable chocolate bar to give a child that isn't very finicky, has a short attention span or perhaps you don't like that much.
Since the bars are rather attractive (probably more so if you don't leave it at the bottom of your bag when traveling) I would be comfortable recommending this bar for craft projects like Gingerbread Houses in the style of mid-eighties cubicle farms.
Though the Milk Chocolate bar was plain, it wasn't pretending to be anything it wasn't. The Four Finger Wafer Bar is a KitKat clone. Instead of the simple declaration of the contents that the Milk Chocolate bar has, this one says that it's "Crisp Wafer Fingers Covered in Smooth Milk Chocolate."
Oh, now they've raised my expectations. I'm expecting some smoothiness and some crispiness.
The wrapper features more design than a lowly word processing program could handle. This does not make it any more attractive. It's not your monitor either, there's a strange green cast to the package as well.
There are, in fact, four fingers. They are, in fact, crisp. They do not taste like KitKat fingers, and there's nothing wrong with that. These are a bit less flaky and light. Looking at the ingredients I see that maize flour (corn) is used instead of wheat flour of a Hershey's or Nestle's KitKat. I actually rather enjoyed the malty corn flavor of the wafers. However, the chocolate here was funky. It had an odd flavor to it, kind of like a new car smell.
This bar was made in the UK (the Milk Chocolate bar was made in the USA). Taquitos.net has a few of the other Dollar General candies reviewed. I get the sense that Dollar General just subs out the manufacture of all of their candy - the Rocklets they sell under their own name are made by Arcor in Brazil, this four fingered bar in the UK and the milk chocolate bar in the US ... so you wouldn't expect them to be so consistent.
Name:
Small World Chocolates: Select Origin

RATING:
SUPERB
YUMMY
TASTY
WORTH IT
TEMPTING
PLEASANT
BENIGN
UNAPPEALING
APPALLING
INEDIBLE

Brand:
American Value (Dolgen Corp.)
Place Purchased:
gift from my brother (purchased at Dollar General)
Price:
$.25 each
Size:
1.4 ounces & 1.3 ounces
Calories per ounce:
143 & 154
Categories:
Chocolate, Cookie, United States, United Kingdom
Monday, January 8, 2007
Though I try to be on top of the Limited Edition candies and review them when they first come out, I totally dropped the ball on this one. The KitKat Mint Dark Chocolate Minis came out in time for Christmas, though they're not specifically packaged as a holiday item (other Hershey's holiday products had little snowflakes on the packages).
The good thing about them being a quasi-holiday item is that they came on sale after Christmas along with all the other holiday candy that may be fresh but sports a now dated red and green wrapper. According to the freshness code, these are good until July 2007!
(On a side note, I have not seen the Cookies 'n' Mint Nuggets again this year.)
Let me just start by saying that I liked these far better than the Mint KitKat that came out in the middle of last year. While that one was sickly sweet, this was minty and fresh tasting.
The little shape of these Minis is also fun. Instead of the usual two-fingered snack size, these are a little shorter and of course are only one finger. About the size of my pinkie, which is rather small as fingers go. Because of the small size I felt like there was more chocolate on these. But I also felt like the crispy wafers were really, really crispy. The minted chocolate is pretty smooth, a bit sweet and lacking a rich chocolatey experience, but generally in support of the cookie and mint elements.
I don't know if I'd buy these again since I'm getting a little tired of them since it was a 10.5 ounce package, but I found them to be far better than most of the other Limited Editions I've had in the past year or so.
There are lots of other reviews of these online cuz I am late to the party: SugarSavvy.net, SugarHog.net, News You Can Eat & Slashfood.
Name:
KitKat Mint Dark Chocolate Minis

RATING:
SUPERB
YUMMY
TASTY
WORTH IT
TEMPTING
PLEASANT
BENIGN
UNAPPEALING
APPALLING
INEDIBLE

Brand:
Hershey's
Place Purchased:
Rite Aid (Echo Park)
Price:
$1.80 (50% off!)
Size:
10.5 ounces
Calories per ounce:
151
Categories:
Chocolate, Mint, Cookie, United States, Hershey's, Limited Edition, Kosher, KitKat